Present

Luke 19:10
For the Son of Man came to seek and to save the lost.

Here. There. Everywhere. This is where you can find God.

Ever wonder if God is around? Ever wonder if God is with you in a sticky situation? Ever wonder?

Wonder no more! He is. He's there in a kind word spoken by a stranger. He's there in a smile from a loved one. He's there in an unexpected visit from a long lost friend.

He's there.

As you pick up your cross today... Know that God is faithful in His Word and seeking to be present in your life.

---

Green

Psalm 145:18
The Lord is close to everyone who prays to him, to all who
truly pray to him.

You're driving. You're trying to get to that special event on time. You're in your new car. And it is fast! You come up to a stop light. You hope the light is... Green?

What's your life like? Is is full of red lights? Is it full of green lights? Is it full of yellow lights? What color do you want your stop light on?

Most of us are trying to get to that event, but we hope the light turns yellow or red. We want to do great things for God, but we always stop or proceed with caution. God wants us to drive with a risk taking spirit. A "Green Light" mentality, but we end up stopping before getting to the destination.

Moses drove head on to part the sea. Nehemiah cruised to rebuild the wall. David put the petal to the metal to face his giant. I wonder what would have happened if they put on the brakes.

I wonder what would happen if you lived life like your traffic light is green.

As you pick up your cross today... Live radical. Take risk. The light is green!

---
---
Stare

Proverbs 3:5-6
Trust in the Lord with all your heart and lean not on your
own understanding; in all your ways submit to him, and he will make your paths straight.

What are you staring at? What is your focus? What and who are you committed to? And why? Why are focused on that? And why are you so committed?

We often stare and wonder what if? What if I would have gotten that job? What if I would have married that person? What if we wouldn't have bought that house? What if...

There are no what ifs when walking in God's will. His plans for you are far greater than the plans you could ever imagine. He knows what you need and when you need it. He knows where you should be and what you should be doing to get there. He knows. And he knows best.

The problem is we want what we want and we want it now. We don't want to be patient and wait on his timing. We don't want to move when he's ready for us to move. We don't want to. We say its my way or the highway and we end up missing out on God's blessings in the end.

Be still. Be patient. Listen and be ready. Because when your time has come and the opportunities present themselves, God's counting on you to move.

As you pick up your cross today, be ready to follow The Head Coach's plan and victory will be yours.

---

Fog

1 Peter 5:4
And when the Chief Shepherd appears, you will receive the crown of glory that will never fade away.

You wake up early in the morning. You look out your window. You see the low lying fog. You watch as it creeps along covering the ground and blocking your view of the area you're in. As the morning settles in you notice the fog beginning to lift. It's as if it just fades away. Soon the fog is gone and everything is back to normal. Fog.

You may think you have it all. You may think the money will never run out. You may think the fame will live on forever. You may think the
boats and cars will always be around. You may think... But the things of
this world will fade away just like fog.

Wouldn't it be reassuring to know that something from this world would last forever and not fade away? Wouldn't it be nice to know that you can take something with you when the "End" come? Wouldn't it be awesome to know that not everything just fades away like the fog?

You're in luck. There's one thing!

There's that one thing you won't loose. There's that one gift that won't fade away. There's that one special prize that will last forever. Your Crown!

This Crown can't be earned. It can't be bought with your money. It can't be purchased with your time. It can't be paid for with a credit card.

No, this crown was purchased with the blood of Christ. It is given freely by God's grace and mercy. It is free to all those that believe, accept, and follow. It's the one gift that won't fade away.

As you pick up your cross today... Know that your crown will last forever, but the things of this world will fade away like the early morning fog.

---
---
Harvest

Galatians 6:7
People harvest only what they plant.

Loved someone lately? Greeted a neighbor with a smile? Showed compassion for a friend who just lost a loved one? I hope so.

It's easy to read and write about doing and saying the right thing, but it's totally different to live it out each day in our lives. The scripture says we will harvest what we plant.

The question then becomes what are you planting? Are you planting kindness and watering it with love? Are you planting seeds of happiness and fertilizing it with patience? Are you planting those seeds that God desires to see in all of us?

Or... Are you planting seeds of bitterness and shame? How about seeds of envy and strife with your neighbors? Doesn't sound like the kind of field I want to get my produce from. But we do. However, we don't have to.

Plant seeds of faith. Plant seeds of hope. Plant seeds of love. Plant seeds of patience. Plant seeds of gentleness. Plant seeds of...

As you pick up your cross today, be sure the seeds you're planting in your field will produce a meal fit for The King.

---

Hurt

Matthew 14:14
When Jesus landed and saw a large crowd, he had compassion on them and healed their sick.

The world hurts. It hurts us mentally. It hurts physically. It hurts us emotionally. It hurts.

You just lost a parent. It hurts. You just discovered you have a life threatening illness. It hurts. You get a call saying the job went to someone else. It hurts. Your child experiences a life threatening accident. It hurts!

But where there's hurt, there's compassion. Where there's pain, there's healing.

Christ doesn't just see the illness, he sees the cure. Christ doesn't just see the hurt, he sees the healing. Christ doesn't just see a lost job, he sees the new opportunity to serve.

As you pick up your cross today... Understand that hurts will come and the hurts will go, but the love and compassion of Christ will endure forever.

---
---
Glass

James 3:17
The wisdom that comes from God is first of all pure, then peaceful, gentle, and easy to please.

Glass breaks, shatters and cracks. It's clear and It's colored.

It distorts. It magnifies.

Glass... So many uses for something that seems so simple.

There were many times when Jesus could have cracked, but he fed the five thousand. He could have broke, but he healed the sick. Jesus could have shattered, but he died on a cross. His glass was pure.

Jesus had a heart full of peace. He had a heart colored with the different shades of God's Wisdom. The clear knowledge of His mission. And a desire not to shatter.

God's Wisdom is pure. God's Wisdom is peaceful. God's Wisdom is gentle
and easy to please. What a wonderful gift our God gives us! Yet so many times we break it. We shatter it. We distort it. We bend it. We discard it. Glass.

As you pick up your cross today, keep your glass clean and let the light of Christ shine through.

---

Wait

Psalm 27:14
Wait for the Lord; Be strong, and let your heart take courage; Yes, wait for the Lord.






You ready to move? You ready to go full force into action? You ready to give it all you got? You ready to pick up your bags
and tell the world goodbye? You're ready... But is God?

Anxiety. Anxiousness. Frustration. Nervousness. Powerless. Hopelessness.

These are all words that one feels while we wait. Well... How about the word fearless?

Have no fear, God is here. He's in the move. He's in the job relocation. He's in the ministry. He's in the work situation. He's in whatever you're in.

Yes. We must wait. We must be still. We must be patient. We must be fearless. For when it's time to move... Move!

As you pick up your cross today... Wait with confidence, then Move!

---
---
Noise

2 Thes. 2:16
May our Lord Jesus Christ himself and God our Father encourage you and strengthen you in every good thing you do and say.



Noise. You hear it. You feel it. You sense it. Noise.

What kind of noise do you make? Is your noise quiet and soft? Or is your noise loud and deafening?

Do you make a bunch of racket or create sweet melodies fit for the King?

We are all called to be servants. Christ came to serve, not to be served. The noise you make defines the attitude behind your service.

Are you helping the needy? Are you mentoring the mother? Do you provide money to the shelter? How about time given to a youth group?

If so... Do you serve for all the right reasons? Do you serve to please your Heavenly Father? Do you serve to make a difference?

God wants your service. He desires for you to serve. He commands that we serve. But he cares more about the heart of the servant than the service. Noise.

As you pick up your cross today, pray that the noise you make and the service you do are sweet to God's Ears.

---

Wood

Mark 5:34
Daughter, your faith has made you well. Go in peace, and be healed of your affliction.

You see it everywhere. At times it can be just beautiful. Other times it can be an eyesore. It can be found in your house. It can be found in your backyard. It can be found in a restaurant. It can be found in a park. Wood.

Wood with blemishes is often time unwanted. We like the hardwood floors that are nice and shiny. That's the wood we want others to see. That's what we hope everyone will notice when they come in our house.

What kind of wood is in your house? Has it been scraped up with your addictions? Has it lost the luster with your lustful heart? Is it rotting from your foul tongue?

You know you need to remodel, but you never seem to start the process.
You see other houses with perfect hardwood floors and you think yours will never look that good so you always put it off. Well the Contractor is ready to begin.

He waxed tax collectors. He polished prostitutes. He sanded adulterers. He refinished idolaters.

No matter what type of wood you have... He's the man for the job.

As you pick up your cross today, don't let the wood you possess keep you from the hope and grace the Master Remodeler offers.

---
---
Doors

Romans 8:39
Nothing... In this world will ever be able to separate us from the love of Christ.

The door knocks. The bell rings. The one you expected is standing right in front of you. What do you do? Do you just stand there and say nothing? Do you ask them to go away? Or do you invite them in?

God's love is always knocking. It's always ringing the bell. Yet sometimes we don't answer the door. We ignore it. We pretend like we don't hear it. We act like the chore we're in the middle of is more important than the guest waiting.

We allow the tongue to speak trouble in a situation at work. We allow our mind to think of dishonest schemes. We fill our ears with music that would have our parents roll over in their graves. We act like...

God's love isn't going away. Nothing in this world can separate us from his love. No matter how wrong you've been. Or how angry you think he is. His love is always there.

As you pick up your cross today, don't forget to open the door and allow your guest in.

---

Swim

Romans 8:16
The Spirit himself bears witness with our Spirit that we are children of God.

Sink or swim is what they sometimes say. What if you sink? What does that mean? What happens to you?

If you sink it often times means you fail.
You lose. You didn't make it. You lost your opportunity.

Well... What if you swim? You did it. You accomplished the goal or task you set out to do. You took advantage of the opportunity and you succeeded.

Did you know that God took his opportunity?

He did. He didn't sink. He swam!

He walked among us. He shared his message. He made ordinary men do
extraordinary things. He gave his life so you and I could have life. He lived so we could be His.

Goal accomplished.

As you pick up your cross today, know that you are His because He didn't sink... He swims!

---
---
WATER

John 13:5
He poured water into a bowl and began to wash the followers's feet, drying them with the towel that was wrapped around him.

I don't know about you, but I don't get a very pretty picture when I think about feet. I'm sure you don't either.

It's the same way when I think about sin. Sin can be dirty, filthy, messy or just plain gross when you think about it. Or do you think about it? That's the key!

The sin in our lives can only be washed away by the water of the servant, Jesus. We must confess our sins in order for him to make us clean. For him to wash all that mud off. For some this is easy. For most of us this can be difficult. But we must do it.

As you pick up your cross today... Don't forget to wash your feet.

---

Moments

John 18:26-27
How many times has your rooster crowed? For some of us... To many times to count. We deny our Heavenly Father, sometimes without even thinking about it. You might be sitting there saying, "No, not me!"

Well... I urge you to reconsider.

We can deny Christ through what we say, what we do, and what
we think.

We don't take those opportunities that God has placed in our path. We don't use that talent he has blessed us with. We overlook the person standing next to us. We don't seize he moment.

As you pick up your cross today... Don't let your rooster crow!


---
---
Traps

Luke 10: 40-42
40 But Martha was distracted by all the
preparations that had to be made. She came to him and asked, "Lord, don't you care that my sister has left me to do the work by myself? Tell her to help me!" 41 "Martha, Martha," the Lord answered, "you are worried and upset about many things, 42 but few things are needed—or indeed only one.[a] Mary has chosen what is better, and it will not be taken away from her."

Each day brings a new day to serve God. Each day brings a new day to fall in a trap while... "Serving" God.

Traps can come in all shapes and sizes. Traps can be in what you do and say. They can be in the time and effort you use.
Traps!

Serving God should be just that... Serving God. Not, serving the servant. Sometimes we allow our service to be more important than the One we serve. Sometimes we allow ourselves to feel like we are the one to be served. Traps!

As You pick up your cross today watch out for those traps. They may keep you from the One you serve... Jesus!



---

Full

Ruth. 1:20-21
20 She said to them, "Do not
call me [a]Naomi; call me [b]Mara, for [c]the Almighty has dealt very bitterly with me. 21 I went out full, but the Lord has brought me back empty. Why do you call me Naomi, since the Lord has witnessed against me and [d]the Almighty has afflicted me?"

Ever have one of those days? Everything seems to be going your way, then all of a sudden the bottom falls out right from under you!

Were you once full with hope and joy? Were you once full with a passion to live for Christ? Were you once full with a love for your family and friends?

This world will let you down. It will eat you up and spit you out. It will make you bitter so that you don't fill full anymore.

Wait... There's good news!

Christ lived, died, and rose from the dead for both you and me. He shed his blood so we could experience a life worth living. He conquered death so we could experience eternal life. He did these things so we could be full.

When you pick up your cross today and you feel bitter or sad just remember what Christ
did so... So you could feel full.

---
---
---
Red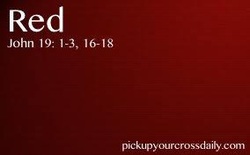 John 19:1-3; 16-18

Ever have days when you wonder if Jesus is there?
Where is he? Why can't I feel him? Why doesn't he speak to me or lead me
through this situation?

Oh my friend... He's there. He's there just like he
was two thousand years ago. He's the same yesterday, today and tomorrow. He's the same as when they hung him on that old rugged cross. He's the same One who died on that cross for you and me. He's the same One who shed his blood so that
we could have eternal life. He's the same One that rose from the dead so that we
could live forever.

As you pick up your cross today, know that when you stand before God on judgement day... He will see Red because you wear the blood
of Christ.
---
---
Keys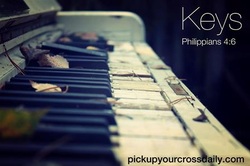 Philippians 4:6

Pray and ask God for everything you need, always giving thanks.

... God can you? God will you? God please...

Ever feel like you're always asking God, but never taking the time to thank him?


Philippians 4:6 tells us to ask for anything we need. Anything... While also giving thanks.

Thanking God should come naturally. Thanking God should be on your to do list. Thanking God should be as easy as hitting the right keys on your piano.

As you pick up your cross today don't forget to thank God. He's waiting for you to play the right keys!
---
---
Linen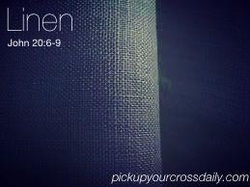 John 20:6-9

Linen. Just the thought of it brings a warm and fuzzy
feeling to the heart. In more ways than one.

... Linen covered the Son of Man after being placed in the tomb. Linen was lying there as the disciples entered the tomb. Linen that once covered Christ... is now folded in victory.

Hope. Mercy. Grace. Love. All folded up as linen in an empty tomb.

As you pick up your cross today... Have confidence in the victory because of the stone rolled away, the empty tomb and the linen.
---
---
Places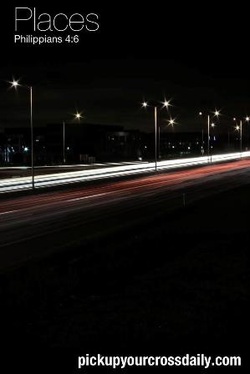 Philippians 2:5
In your lives you must think and act like Christ Jesus.

We all have some place we are going. It might be to the mall for some
lite shopping. It could be a football game to watch your favorite team play. It just might be Sunday, and it's time for church!

Places. It's right now. Where are you going?

The more important question is... Where's God taking you?

God loves you right where you're at. He loves you no matter what you've done. What you've said. Or where've you've been. But...

God refuses to leave you where you're at. He refuses
to keep you in the same place. He refuses to watch you stay put.

As you pick up your cross today just remember that God refuses to keep you in the same place... He wants you to be just like Jesus.
---
---
Victory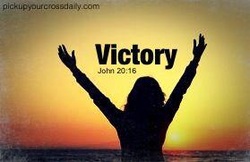 John 20:16

Jesus said, "Mary."
She turned toward him and cried out
in Aramaic, "Rabboni!" (Which means Teacher).

With one word, "Mary," Victory!

When did you first realize, Victory? When did Jesus first call your name? When did Christ first reveal himself to you?

Christ on the cross equals victory over death. Christ on the cross equals an eternal resting place for
those that believe and follow. Christ on the cross equals a mission completed.

As you pick up your cross today don't forget the price... Equals Victory!
---
---
Gifts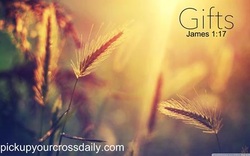 James 1:17
Every good action and perfect gift is from God.

The waves are crashing in on you. The tide is rising. The storm is rolling in. You feel like you have nothing.

God's gifts come in all shapes and sizes. His gifts come in the form of a shelter, to hide you from the rain. A boat to climb into, when the tide is rising. Higher ground, when the waves crash down.

His gifts don't stop there. He sends his angels to protect you. The Holy Spirit to dwell in you. The Holy Word to guide you.

He hears you when you speak. He listens when you cry. He responds when you ask. Gifts!

As you pick up your cross today... Don't forget the most important gift, Jesus!
---
---
Solid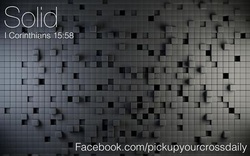 1 Corinthians 15:58
Therefore, my dear brothers, stand firm. Let nothing move you. Always give yourselves fully to the work of the Lord, because you know that your labor in the Lord is not in vain.

What moves you? Is it your job? Is it your family? Is it the addiction that has a grip on you? What moves you...

Paul tells us to stand firm and not be moved by the ways of this world. By the distractions of this world. By the culture that we live in. Stand firm. Don't move. Be SOILID!

But... Be ready to do the Lord's Work. Whatever that may be. Wherever that may be.

As you pick up your cross today... Be Solid in your faith and Solid in your work.
---
---
Thunder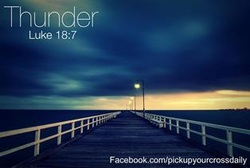 Luke 18:7
God will always give what is right to his people who cry to him
night and day, and he will not be slow to answer them.

You're outside. The clouds are rolling in. You look up. You listen. You hear... Thunder.

Just like life we hear the thunder when it happens. God doesn't hold anything back. He acts at just the right time. He speaks even when you don't think he's near. He moves when he's ready. Why? He knows best.

As you pick up your cross today wait for the thunder... You'll hear it when the time is right.
---
---
Roadblocks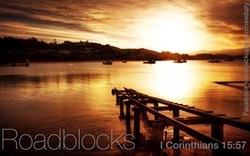 I Corinthians 15:57
But thanks be to God! He gives us the victory through our Lord Jesus Christ.

You're in a hurry to get to that one place you need to be. You look up and there it is... A ROADBLOCK!

Death can be that roadblock that many of us face.
In the Old Testament, death was seen as the one thing that stood in the way of our relationship with God. The Roadblock.

Then came Jesus. Jesus didn't spend a lot of time teaching about death. He spent his time teaching about life
and living it to the fullest. Jesus didn't see death as a roadblock.

As you pickup your cross today... Follow Jesus around your roadblocks.
---
---
Seeds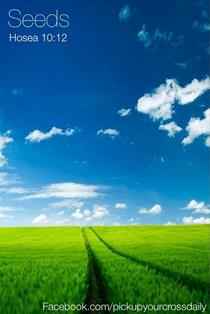 Hosea 10:12
Plant goodness, harvest the fruit of loyalty, plow the new ground of knowledge.

Hurting? Frightened? Experiencing the death of a friend or loved one? Lost
job? Addicted? So many fields to sow.

Where do you plant your seeds? How do you plant your seeds? Why do you plant your
seeds?

Seeds come in all shapes and sizes. They come in the form of "Hello" to the little boy who just lost a parent. They come in the shape of hug to the person struggling with alcohol addiction. The come in the form of a dozen cookies given to the neighbor who just lost their job. Seeds.

As you pick up your cross today don't forget to visit the fields... And plant you seeds.
---
---
Canyons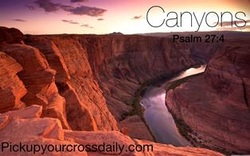 Psalm 27:4
One thing I ask from the Lord, this only do I seek: that I
may dwell in the house of The Lord all the days of my life, to gaze on the
beauty of the Lord and to seek him in his temple.

Ever been to the Grand Canyon? I haven't, but I've seen lots of pictures and watched documentaries about it. It's beauty. It's vastness. It's depth. It's a magnificent place. It's a place many spend a lifetime observing. Just being in the presence of this wonder can fill the heart with joy.

Now I ask you if you've ever been in the presence of God? Felt His strength? Felt His forgiveness? Felt His security? Heard His voice? Seen His miracles? Have you ever been in His presence? Being in His presence is
what David longed for... All the days of his life.

God has the welcome sign up and the mat on the floor. The door isn't locked and the doorbell works.
He desires to have a relationship with each of us, but it's a two way street.

As you pick up your cross today allow God to take you on a tour of His Grand Canyon.
---
---
Hummingbirds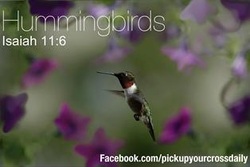 Isaiah 11:6
Then wolves will lie in peace with lambs, and leopards will
lie down to rest with goats.

Ever wonder what a world without sin would be like?

A hummingbird is such a sight to behold. It moves with such precision and grace. It can hover almost effortlessly in one spot for an extended amount of time. It draws you in to marvel at its flight.

The hummingbird.

The ways of this world. The sin we have in our lives. The sin we don't want to let go of. The sin that lingers. The
sin that draws you close and won't let you go. The sin that looks delightful on the outside but causes pain and suffering on the inside. The sin you don't cosider a sin. The apple... The hummingbird.

There will be a day when there will be no more sin. No more pain. No more suffering. No more tears. If
you can imagine such a time... You can imagine heaven.

As you pick up your cross today, don't focus on the beauty of the hummingbirds...focus on the beauty of heaven.
---
---
Companionship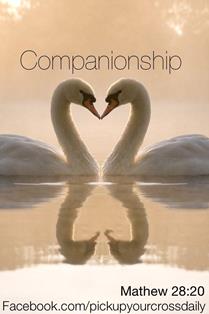 Matthew 28:20
And surely I am with you always, to the very end of the age.

Companionship is sometimes hard to find. We seek companionship so we have
someone to talk to. To hang out with. To cry with. To laugh with. We seek that
one who will always be there with us in the good times and bad. Who will be
there through thick and thin. Companionship.

Swans often mate for life. They stick with one another to the end. In some cases the relationship is cut short, but most of the time the swans are stuck with each other for the duration. Companionship.

In today's society a true caption is hard to find. People aren't willing to stick it out. People cut and run when times get tough. They aren't there with a shoulder to cry on because the world is more important.

Christ tells us that he is with us always. Until the end of the age! He's with us when the bills need to get paid and there's no money. He's there when a family member passes away. He's there when the boss tells you to pack your things, today's your last day. He's also with you when your child is born. When you get a raise. When you get married. And when you close on a new house.

True companionship is hard to find. But look no further than the one who said he would never leave you nor forsake you.

As you pick up our cross today, when you think companionship... Think Jesus!
---
---
Clay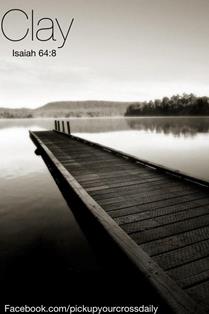 Isaiah 64:8
We are like clay, and you are the potter; your hands made us
all.

The wheel spins. The hands mold. The sculptor sculpts. Clay.

Shape it. Paint it. Fire it. Clay.

We are like clay in the Master Potter's hands. He shapes us with a little compassion. He paints us with some humility. He fires us to bring us closer to him.

We may begin our journey one way, but let the Potter get a hold of you and you are sure to come out different. Let him spin you round and round a few times and the next thing you know you're in front of a group of kids spreading the gospel. Clay.

No matter where you're at in life, God wants to change you. He wants to mold you into the person he knows you should be. He wants to create a masterpiece. A work of art that only he can create. Will you let him?

As you pick up your cross today, know that the Master Potter is hard at work creating the new you.
---
---
Touch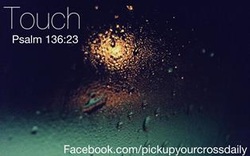 Psalm 136:23
He remembered us when we were in trouble. His love continues
forever.

Your heart is pounding. Your soul is grasping. Your mind is wondering.
You're waiting for it. Touch.

You ask where he's at. You wonder what he's doing. You want to feel him. You want to speak to him. You want to reach out and touch him.

We sometimes forget that the one we follow walked among us 2000 years ago. He lived. He breathed. He spoke. He cried. He died. He touched.

He healed the sick. He made the blind see. He fed the hungry. With just the slightest touch of time he started a movement that shook the world.

You can still see him. You can still speak to him. You can still call out to him. You can still reach out to him.

As you pick up your cross today, expect the touch you've been waiting for.
---
---
Shells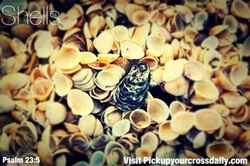 Psalm 23:5
You prepare a meal for me in front of my enemies.

Your at the beach. You look down. You see one of the magnificent wonders of the sea... Shells.

Shells come in all shapes and sizes. They come in different colors and shades. Some even housing a living organism. Shells.

No matter what the shape is or the color, we all are shells. We all are
created and loved by the one and only God. Each of us at some point can say we were sinners. We can call ourselves saints in the shed blood of Christ.

As the shells flood the beaches we walk on, so are the number of sinners made saints seated at the table in the great house of God. Each made righteous with the acceptance of Christ Jesus our Lord. Each of us made new by two sticks and
some nails. Each alive with an empty tomb.

As you pick up you cross today, remember that you and I have a seat at God's Table as each shell has a place in the sand.
---
---
Holes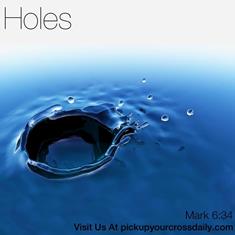 Mark 6:34
When he arrived, he saw a great crowd waiting. He felt sorry for
them ... So he began to teach them many things.

You grasp. You reach. You seek.

You look. You wonder. You search.

Why? Holes. Holes everywhere.

Grasping for a cure. Reaching for a relationship. Seeking a new job. Looking for a place to live. Wondering if there's hope. Searching for a savior.


Christ comes. Christ shows up. Christ provides the cure. The interview. The home. The hope. The Salvation.

As you pick up your cross remember the holes you experience today are already filled with the compassion of Christ.
---
---